Martino Cartier's Network of Salons Dedicated to Helping Women and Children with Cancer
Martino Cartier's
Network of Salons
is Dedicated to Helping Women
and Children with Cancer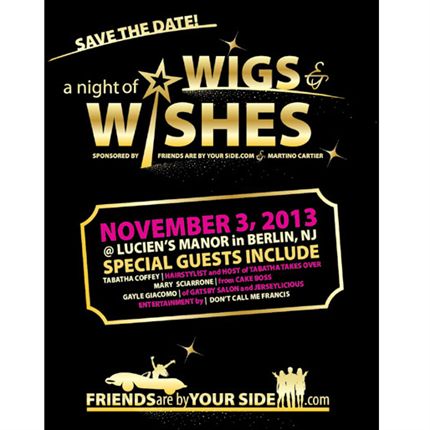 Thirteen years ago, when Martino Cartier had just opened his salon, one of his clients stopped in with her 9-year-old son. Young Bobby and his mom were in shock—the boy had been diagnosed with terminal brain cancer and given two months to live. Martino was stunned. "As hairdressers, we love our clients," he says. "We talk with them, we laugh with them, we cry with them. When they share something like this, it's devastating." At first, Martino didn't know what to do for Bobby and his mother, but he quickly figured it out. Bobby's wish was that his mom could quit work and stay home for the time that he had left. So even though Martino's business was brand new, his staff was tiny and his resources were limited, he decided to raise money with a cut-a-thon.
"We made signs, put out balloons and for two days we cut, cut, cut," he remembers. "I didn't know if we would reach our goal and I was so nervous. But by the end of the second day, we had raised $20,000." As a result of Martino's efforts, Bobby's mom was able to resign from her job to stay home and spend precious time with her son. Bobby lived another two years and the family never had to worry about making their mortgage payments. Since then, Martino has lived by this very simple code: "You can't make it in life unless you give back."
Take the Pledge 
The success of that first cut-a-thon also illustrated the power of hairdressers. "Helping people sends out the message that they can do this…it inspires them to try harder, to fight harder, to live longer," Martino declares. Over the years, Martino has held countless events and fundraisers, always willing to step up for someone in need. And each person he has helped along the way, he says, has left an imprint on his heart. So recently, he decided to "go big." He created Friends are by Your Side—a consortium of salon owners and stylists from around the world who pledge to provide free hair replacement services to any client suffering hair loss due to chemotherapy, regardless of their financial position. Anyone can participate. To join the network of more than 600 salons, simply take the pledge on www.friendsarebyyourside.com. Within 24 to 72 hours, anyone in need of hair replacement services in your area will be able to locate your salon on the site. What's more, the American Cancer Society, along with hospitals around the country, support and refer clients to salons who are a part of the Friends are by Your Side network.
Paying it Forward 
Funding your salon's Friends are by Your Side program is easier than you might think. "At our salon, the receptionist asks every single client if they'd like to donate a dollar or more towards creating wigs for women and children with cancer," Martino reveals. "They say yes 99 percent of the time." A common question from salon owners is whether taking on this commitment will cut into profits. Martino assures them it won't. "One day, we had a full book of 195 appointments," he remembers. "Twelve of them were women who needed wigs. It's a small percentage of your day, but do keep in mind that it's not something you want to rush through." There's also an upside for your business. "Once other clients see what you are doing they are moved," Martino notes, "and your salon will get more business because of it. People will feel good about supporting your establishment and its mission." There's another, less tangible benefit, too. "Really making an impact on someone's life gives stylists and salon owners the confidence they need to take their salon to the next level," Martino believes.
Changing Lives  
The smallest gesture can yield a big impact—but Martino doesn't believe in small gestures. Since many of the children he helps are coping with terminal illnesses, his goal is to make it possible for them to fulfill their biggest dreams. Last year, Martino helped a very special 11-year-old girl named Kiki meet her idol—Justin Bieber.
There was a marked change in Kiki after meeting the Biebs—she became positive and excited about the future. So excited, in fact, that she wanted to fulfill the wishes of other children coping with illness. So she and Martino worked together to supply toys to all of the kids at the Children's Hospital in DuPont, DE. Donations came flooding in from salons and companies across the nation, and Kiki and Martino were able to gift over $125,000 worth of toys to the hospital—their largest donation ever. Tragically, before Kiki could present the toys, she passed away. So, Martino's girlfriend taped her picture to every box of toys and signed "Love, Kiki" on each one. "Kiki was still there in spirit," Martino notes. Emboldened by his success in the music world, Martino helped Alex—a teen struggling with Stage 4 bone cancer—meet her lifelong idol, Taylor Swift. On the eve of Taylor's concert, Gail Benson of The Look Salon in Oviedo, FL offered to provide Alex, three of her friends and her mom with free makeovers. The group was then picked up at the salon by a limo and taken in style to a meet-and-greet with Swift. Later that evening, Alex texted this message to Martino: "Tonight filled me with enough happiness and tears to last the rest of my life." It's powerful responses like that, says Martino, that make all of the effort worthwhile.
Grant a Wish |
From Martino's humble beginnings hosting cut-a-thons at his small salon, Friends are by Your Side has grown to the point where it is now attracting attention and support from major beauty manufacturers and international corporations. Sponsors of the program include HOT HEADS (they've donated thousands of wigs to the cause),Keratin Complex, McDonald's and P&G Professional to name a few. Paul Mitchellrecently sponsored a Disney vacation giveaway for mothers with cancer and their families to enjoy some much needed and well-deserved fun. So what's coming up? On November 3, 2013, Martino and Friends are by Your Side will present the first annualNight of Wigs & Wishes—an event designed to increase awareness for the organization and to raise funds to fulfill wishes for even more women and children battling cancer.
Bravo TV's Tabatha Coffey, the cast of Jerseylicious, and Mary Sciarrone of Cake Boss will all be on hand, along with many other industry leaders. It all started with Bobby and his mom and now, in true Martino "go big" style, he is declaring that the Night of Wigs & Wishes will be the charity event of the year. "Don't miss the opportunity to make someone's dreams come true!" he says. To find out more, visitwww.friendsarebyyourside.com.
Check out the article on behindthechair.com