Catwalk Hairstyles for Fall 2023: Your Guide to the Latest Trends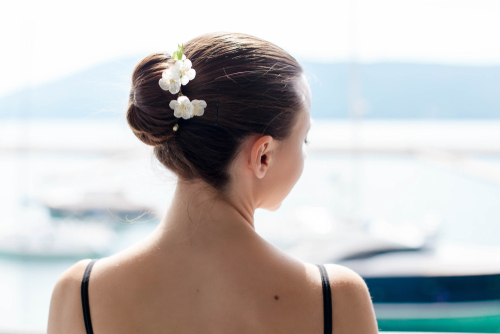 As we bid farewell to the warmth of summer and welcome the cozy embrace of autumn, it's time to refresh our hairstyles, and where better to take our inspiration than from the latest catwalk trends for Fall 2023? This season, the fashion runway showcased an array of styles, from elegant black ribbons to chic ballerina buns, offering a diverse range of options for every hair type and personality. Here are our favorites of the top catwalk hairstyles that are set to make a statement this fall.
Black Ribbons – The Elegance of Simplicity
Hair bows have long been a fashion staple, but this autumn and winter, it's all about black ribbons. Whether you opt for thick or skinny ribbons, straight or textured, the key is to secure them around your ponytail. The runway demonstrated that ribbons need not be bowed but can be simply knotted for a chic add-on to a minimal low ponytail. Bendy black bows were also paired with padded black headbands, proving that sometimes it pays off to be dramatic.
Ballerina Buns – The Epitome of Chic
Low-slung buns took center stage on multiple runways, and they were given a modern twist with a shiny finish enhanced by glitter. A chic ballerina bun, crafted from braids, demonstrated the versatility of this classic style. It presented the most literal interpretation of a ballerina bun, with a perfected look reminiscent of a ballet recital.
Old School Braids – Nostalgic Styles with a Grownup Twist
Some classic hairstyles from the past made a delightful comeback this season, reminding us of beloved schoolgirl styles that can be elevated to suit grownup tastes. Soft pigtail plaits showcased the enduring femininity of this style, while Dutch braids offered a combination of beauty and practicality, proving their versatility for both everyday and special occasions. Heidi braids took on a whimsical twist, encircling models' ears for a playful take on this timeless trend.
Wet 'n' Styled – Embracing Ethereal Aquatic Vibes
Wet-look locks have been a runway favorite for years, and in 2023, they feel more relatable than ever. Thanks to the popularity of mermaidcore and the enthusiasm surrounding Disney's "The Little Mermaid," the wet look is here to stay. Some models sported combed-back and gelled wet-look crops, while others opted for a softer variation with lacquered sides and flipped-out ends. This trend captures the ethereal beauty of underwater realms.
Show Ponies – Reinventing the Classic Ponytail
Every season, fashion reinvents the ponytail, and this time, the focus is on the base. The hair wrap ponytail, concealing the hairband, makes a modern comeback. It was executed with intricate detail, and even an exaggerated version shows that this style looks contemporary when paired with pin-straight hair. Alternatively, showcasing a black elastic hairband can be just as striking and stylish.
Side Partings – Embracing Asymmetry
While center partings have been favored on the catwalks for some time, this season sees a shift towards side partings with purposeful asymmetry. Models wore their hair tucked behind the ear of the side with less hair showing, creating an intentionally asymmetric look. To make this style pop, some hairdos were accentuated with gold lines at the part, adding a touch of glamour to the side-parting trend.
Hair Brooches – Elevating Your Catwalk Hairstyle
One timeless trend is making a triumphant return – the art of hair brooches. These exquisite accessories not only redefine how you wear heirloom pieces but also add a touch of vintage charm to your runway-inspired look. Drawing inspiration from nature with show-stopping flowers, these brooches bloom elegantly in half-up, half-down 'dos, seamlessly blending with loose, rippling waves. For a whimsical and party-ready twist, bejeweled lip-shaped brooches find their place within long braids, infusing a delightful feel into your hairstyle.
The catwalk hairstyles for Fall 2023 are all about embracing diversity and creativity. Whether you're drawn to the elegance of black ribbons, the asymmetry of side partings, or the timeless charm of ballerina buns, these trends offer something for everyone. The wet 'n' styled look captures the allure of underwater beauty, while show ponies reinvent the classic ponytail. And if you're feeling nostalgic, old-school braids offer a touch of the past with a grownup twist. This fall, don't hesitate to experiment with these runway-inspired hairstyles and make a statement with your locks.
Book your appointment at Martino Cartier Salon now and allow our talented stylist to create a unique fall hairstyle for you! Call 856.582.6600, book your appointment online, or download our free mobile app available from iTunes or Google Play to schedule your own appointment right from your phone. You'll find us at 304 Hurffville Crosskeys Rd., Sewell, NJ.