Find a New Hair Style with Hair Extensions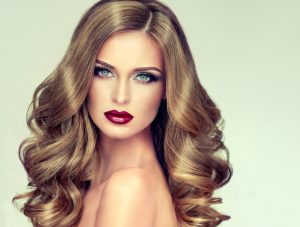 Fall is here and winter is on its way, with the upcoming holidays right around the corner. Many of us have already broken out our fall/winter wardrobe and have started planning our holiday attire. If you've really gotten into the spirit, you may have started thinking of other ways to change your look this season. If you're contemplating a new hairstyle with more flexibility, hair extensions may be the perfect solution.
Adding Length. The most popular reason for adding hair extensions is to be able to take your hair from mid-length to long without waiting for it to grow out. Many women use hair extensions for special occasions such as holiday parties, weddings, and other events where long, romantic hair is a must.
Adding Color. Our hair extensions allow you to add color to your style. It's easy to add a highlight color, a tone to add dimension to your hair, or a fun, bright color to add interest to your natural hair. The opportunities are limitless to explore different options before committing to a lengthy, and more permanent, coloring process.
Pump up the Volume. If you have thinning hair, or naturally thin hair, hair extensions can add volume to your hair giving you a full, lush head of hair.
Play with Curls. Long, wavy extensions can add a dramatic look to your natural hair, giving you more options to try this season's trending curly styles. You can easily add curl to your hair for those holiday family pictures without committing to the time and work of a perm.
Seamless Change. Hair extensions make it simple and easy to change your look in a matter of minutes but will make your hair look like you've spent hours on it. They blend seamlessly into your natural hair and will save your time on blow drying and styling.
Make an appointment today at Martino Cartier Salon, and our professional stylists will help you decide on the best type of extensions for that look you've always wanted. You can give us a call at: 856.582.6600, visit us a.t 304 Hurffville Crosskeys Rd., Sewell, NJ, or set up an appointment on our free mobile app on iTunes or Google Play.