Eager to Go Red This Fall? Here's How to Find Your Perfect Shade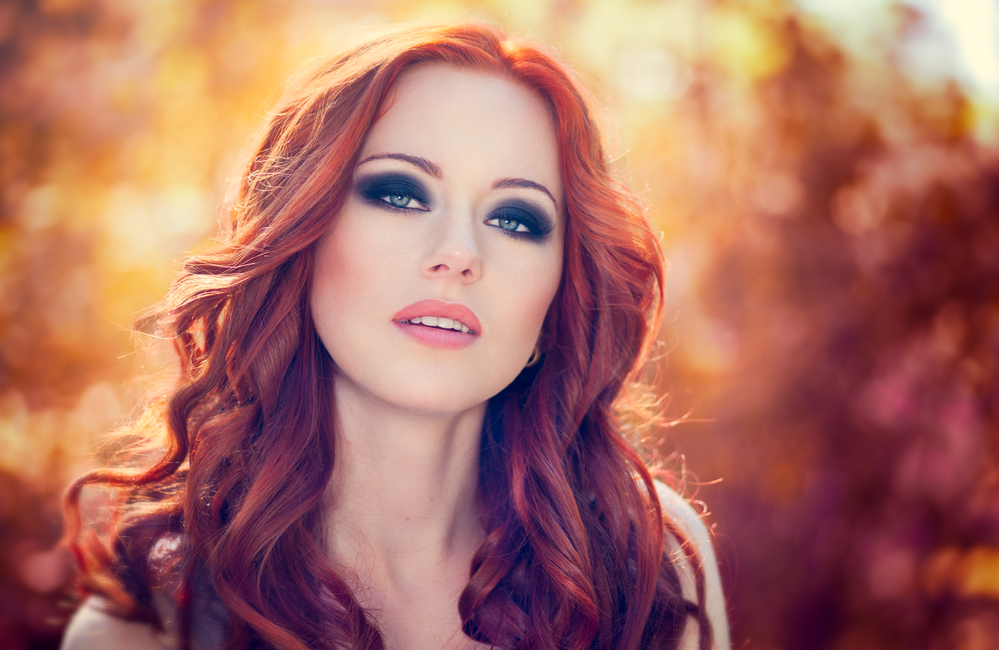 Summer is over now and the chill of fall is beginning to fill the evening air. The leaves will soon be bursting with glorious fall colors. This is the perfect time of year to do something bold with your hair like dying it red. Many people are curious about life as a redhead but are worried that red hair will look out of place on them. Anyone can pull off red hair. The trick is in choosing a shade that compliments your skin tone to give you a natural and perfectly pulled-together look. Here is what you need to know to make sure your hair color and skin tone work together in harmony.
Red Shades for Warm Skin Tones
How do you know if you have warm skin? Look at your wrists in natural light. If your veins look a little bit green then you have a warm skin tone. You should look for a shade of red with the same golden undertones that your skin has. Some colors you might try are various shades of copper, muted pumpkin, rich mahogany, warm cinnamon, or strawberry blonde if you aren't ready to completely give up your blonde.
Red Shades for Cool Skin Tones
To determine if you have a cool skin tone you'll do the same test as for warm. If your veins look blue or purple then your skin tone is cool. The colors you should look for will have those same bluish undertones. True reds, deep plum and burgundy, cool copper, maroon, and pastel pink are great shades for cool skin.
Shades of Red for Neutral Skin Tones
Those with neutral skin tones can choose pretty much any shade of red they want and look fabulous in it. Try holding up a piece of gold jewelry on one side of your face and a silver piece on the other. If they both look equally good against your skin your skin tone is neutral. While you can wear pretty much any shade you'd like, you can fine-tune your color choice by considering your eye color. You'll have a more cohesive look if your hair color compliments your eyes. Orangey reds like copper go beautifully with green eyes. Blue-toned reds make blue eyes sparkle. And golden reds bring out the warmth of brown eyes.
Shades of Red for Olive Skin
Olive skin doesn't really fit into any of those categories. It can be warm or lean more towards neutral. Whichever the case may be olive skin has a slightly greenish undertone. Neutral to warm shades work best with this skin tone. Mulled wine, golden copper, or deep burgundy red will be the perfect shades to compliment an olive complexion.
Another thing you need to consider is how dark your skin is. Some reds work better with pale complexions while others look best with darker complexions.
Pale Complexions- It's easy to overpower pale skin with bright or dark colors. When searching for your perfect red look for light shades that border on blonde. Avoid super dark colors as the stark contrast can give you a washed-out look.
Medium Complexions- If you have medium skin you will look great in pretty much any shade you choose. From the softest rose gold to the deepest scarlet the sky's the limit on the fun you can have with your new ginger hair.
Dark Complexions- Look for deep or bright shades to best compliment darker skin. Your dark complexion adds to the vibrancy of bright shades for an absolutely stunning look.
Red Hair Care 101
Now for a crash course in keeping your new red mane ravishingly beautiful. Red hair tends to fade faster than any other hair color. This is due to the size of the red dye molecule. They're much larger than other hair dye colors. This means that they cannot penetrate the hair shaft as deeply. Since the dye remains more towards the surface, it washes away more easily. You'll want to make sure you're using shampoo and conditioner that are free of sulfates and that are specially formulated for color-treated hair. You'll also want to shampoo less frequently. Once or twice per week is enough for most people to keep their hair clean. You can use Martino Talk Dirty To Me Dry Shampoo to freshen up between washes, and if your hair needs an extra shot of moisture grab some Martino Leave-In Conditioner Spray to keep it soft and hydrated.
Are you eager to take the plunge and go read this fall? Allow the expert colorists at Martino Cartier Salon to help you find your perfect shade of red that you can wear with complete confidence. Give us a call at 856.582.6600, book your hair color appointment online, or use our free mobile app available from iTunes or Google Play to schedule right from your phone. We look forward to serving you at 304 Hurffville Crosskeys Rd., Sewell, NJ.