Glamorous Holiday Hair How-Tos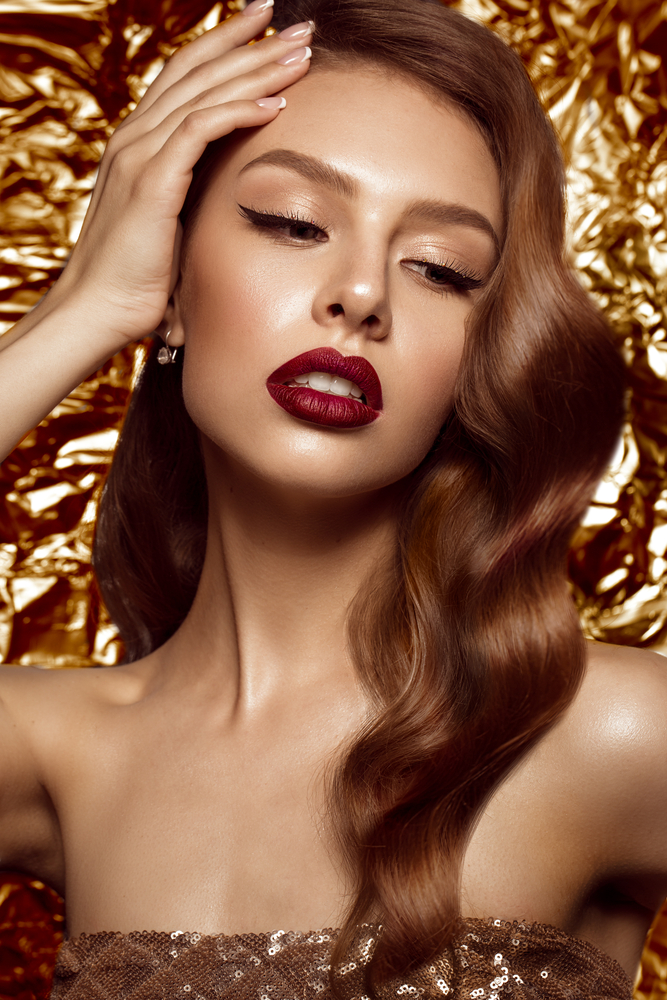 Not that you need an excuse to get glammed up, but if you've been looking for one the holidays give you a perfect reason. Whether you're attending an office party, family gatherings or a virtual get-together, any event is a good reason to get dolled up. So while you're planning your holiday ensemble take a look through these glamorous hairstyles to find a look that will pull everything together.
Triple Twist Bun
What's more sleek and glamorous than a classic bun? The answer- is the triple-twist bun. This hairstyle looks very detailed and intricate but doesn't take much time or effort. To get the look section your hair into three stacked ponytails of equal size. Now start twisting and pinning each ponytail into a bun. Alternate the direction of the middle bun to make the style even more impressive. Finish with our You Had Me At Hello Flexible Hold Hairspray to keep everything in place while you party.
Classic Hollywood Waves
This hairstyle is the epitome of glamor. It's suitable for any length of hair and any occasion. Martino's Ripple Effect Ultimate Waiver can easily create the perfect glamorous waves in minutes. Make sure all your waves are continuous and uniform and finish with Glass Slippers Satin Sparkle Spray to add spectacular shine.
Sleep High Ponytail
The key to this style is super sleek straight hair. Use Martino's Heat Blade Straightening Comb to get your strands silky smooth, then gather on top of your head and secure with a large gold or jewel-studded barrette. Finish with shine spray and allow your sleek strands to cascade down the back and sides.
Retro Beehive
This slightly tousled updo is popular among celebrities right now, and it's perfect for the upcoming holidays. You'll want to prep your locks with plenty of volumes using Martino's Volume Serum before blow drying. With the prep work done, simply start twisting your hair from the nape of your neck, bending your ponytail in half, and continuing to twist. Pin the twist against the back of your head ending just below the crown. Gently tug the hair at the crown to fluff and shape it into a tousled beehive. When you're happy with the shape spray to lock everything in place.
Deep Side Part Blowout
This is perfect for medium to long hair when you simply have no time to think about a hairstyle. Give your roots a spritz of Volume Root Lifting Spray, and then give the length of your hair a spritz of Turbo Quick Dry Spray. Blow dry using a Tourmaline Anti-Static Round Brush to create stunningly smooth waves and curls in your blowout. Part your hair deeply on one side and spray to hold the part in place.
Knotted Chignon
This style begins with a simple low ponytail. You'll then section your hair into two parts using 1/3 of the ponytail in one section and 2/3 in the other. Twist the larger section into a bun and pin it into place. Smooth the other section and pull it loosely up over the bun and secure the middle to the top of the bun, but leave the tail loose. Divide the tail into two equal sections and tie them into a simple knot like you would to begin a bow. Wrap and tuck the remaining tails underneath the bun and pin them into place. Simple, chic, and sophisticated.
If you're looking for a more elaborate style for a special occasion this holiday season the talented stylists at Martino Cartier Salon will be happy to help give your hair some festive and glamorous flair. Give us a call at 856.582.6600, book your holiday hair styling appointment online, or use our free mobile app available from iTunes or Google Play to schedule right from your phone. We look forward to seeing you soon at 304 Hurffville Crosskeys Rd., Sewell, NJ.