Handsome Spring 2023 Hairstyle Trends For Gentlemen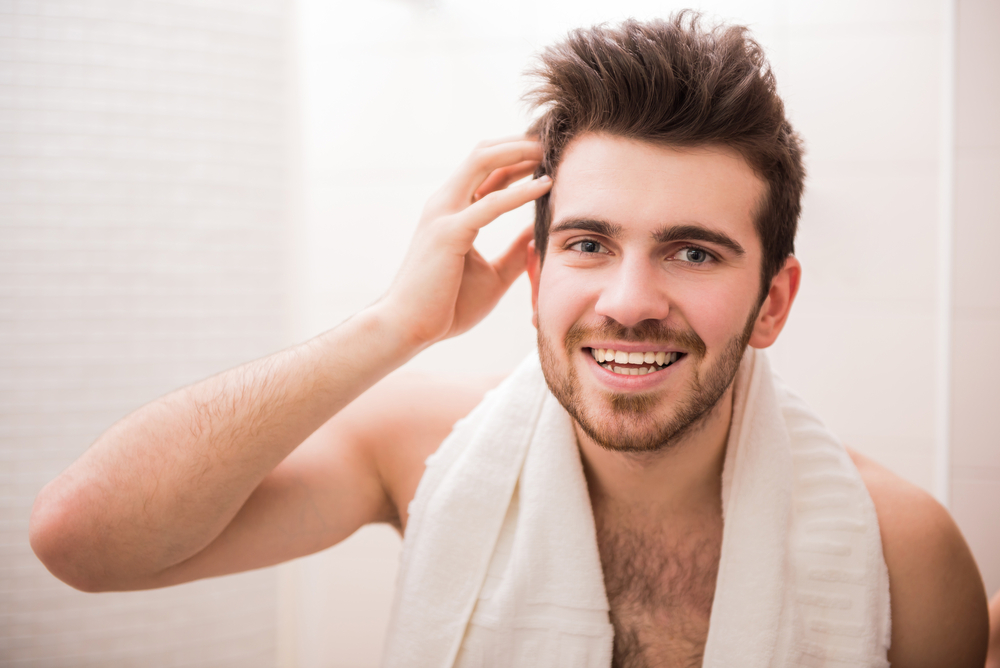 Many of the new spring hair trends for gentlemen this spring aren't quite so new at all, but more of a refreshing blast from the past. Retro styles have been popular for a while now with us seeing a lot of unconventional styles like mullets and mohawks, but this season's top men's hair trends are dapper and classy. They take their inspiration from decades past but with a modern twist. Here are some of the timeless looks you'll be seeing everywhere this spring.
Gentlemen's Spring Hairstyles
Tamed Down Quiff- During the 50s rock and roll era quiffs were all the rage, and the higher the better. This season's quiffs are tamed down a bit, but you'll still need strong hold sculpting paste or gel to achieve the look. Longer locks on top are swept up and back to create height and volume with a sleek, sculpted finish.
Center Part- Touseled center parts may have been the in thing in recent years, but this spring that bedhead look is being replaced by a neat and polished look. You'll be needing a fine-toothed comb and styling gel to keep your hair perfectly parted, smooth, and sleek. You might also want to set the style in place with hair spray to make sure it stays put. Even a few flyaways will ruin the look of this style.
Messy Crop- There is no question that shorter hair is in for spring, but not every short cut this season is all neat and tidy. This style projects a more relaxed image. With a little length on top, you can tousle this crop for a bit of a messy look, but do it tastefully or you'll end up looking sloppy rather than casual. Done right this style is appropriate for both work and play.
High Tight Fade- If you're like most people you want a look that sets you apart from the status quo while still keeping up with the latest trends. A high tight fade does just that with its stark contrast of closely clipped sides and back and longer, but not too much long top. This style is really low maintenance on a daily basis as there is not much styling to do, but you will need to keep up with regular trims to keep your fade nice and tight.
Gentlemen's Spring Hair Colors
Natural Chestnut Brown- If you want a truly natural-looking color you can't go wrong with chestnut brown. It is a warm dark brown that is on the lighter end of the brunette spectrum. This color has flecks of gold and auburn throughout that give it a lot of depth. It's a great way to embrace the brunette trend without going too dark. This color looks good paired with any cut but for a special touch pair it with a slightly longer crop.
Jet Black- Black might seem like an easy color to wear. After all, it's a wardrobe staple that looks great on everyone, but when it comes to hair you may find getting it just right a bit tricky unless you get the help of a pro. A true inky black with bluish or deep brown undertones is a mysterious and sexy color that is simply irresistible.                                                                                                                                                                   
Earthy Red- Did you know that red hair is the rarest hair color in the world? Is it any wonder then that a ginger mane attracts so much attention? This copper red has undertones of gold and brown that give it a warm, earthy feel that is perfect for anyone looking to stand out from the crowd. 
Dark Honey- This dark honey blonde is a great color for both those looking to go lighter and those looking to go darker. It's right in the middle where blonde and light brown meet.  It's also a youthful color that can shave years off of your appearance. Don't believe us? Try it for yourself.
Ready for a dashing new style for spring 2023? Come see the stylists at Martino Cartier Salon for a Gentlemen's Cut & Style or perhaps a new color to refresh your current style. Whatever your hairstyle dreams we can make them come true. Request an appointment online, call us at 856.582.6600, visit our salon, or book your appointment right from your mobile device with our free mobile app on iTunes or Google Play. We look forward to serving you at 304 Hurffville Crosskeys Rd., Sewell, NJ.