9 Must-Have Hair Accessories for Fall 2023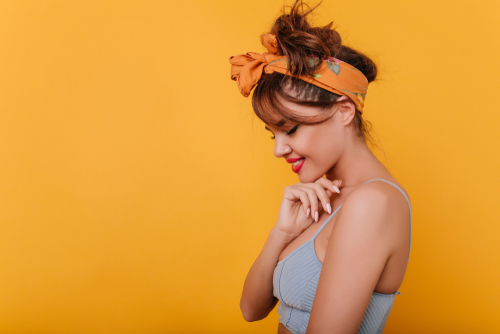 As the leaves change and the weather cools, it's not just your wardrobe that gets a makeover for fall. Your hair deserves some autumnal love too. A great haircut and style are a must, but what better way to elevate your fall hairstyle even more than with the right hair accessories? From cozy beanies to chic barrettes, we've got a roundup of the best hair accessories to help you capture the season's charm.
1. Beanies: The Cozy Classic
Beanies are the epitome of fall fashion. They're not only warm and comfortable but also incredibly versatile. A beanie can instantly transform your look, with a casual, relaxed vibe. Choose from an array of colors and materials, from chunky knits to soft cashmere blends. Slouchy or snug, beanies are perfect for taming your hair on chilly, windy days, and they pair wonderfully with long, loose waves or a sleek, low bun.
2. Brimmed Hats: Timeless Elegance
Brimmed hats never go out of style, and they're an excellent addition to your fall accessory collection. Whether you opt for a classic fedora, a wide-brimmed floppy hat, or a structured Panama hat, these accessories add a touch of elegance to your ensemble. Brimmed hats are ideal for those fall days when you want to keep the sun out of your eyes while looking effortlessly chic. Pair one with a loose, low ponytail, tousled waves, or a braided hairstyle for a timeless, sophisticated look.
3. Head Wraps: Boho Beauty
Head wraps bring a bohemian, artistic flair to your fall hairstyle. These accessories come in a variety of patterns, colors, and materials, making it easy to find one that matches your style. You can wear them in various ways—tied at the top of your head, wrapped around a messy bun, or used as a headband. They add a touch of whimsy and charm to your look, making them perfect for festivals, apple-picking adventures, or simply enjoying the autumn breeze.
4. Scrunchies: Throwback Fun
Scrunchies are back, and they're making a bold statement. These fabric-covered hair ties are a fun and playful addition to your fall hair accessories. They come in various patterns and materials, so you can choose the one that complements your outfit. Wear your hair in a high ponytail or a messy bun and secure it with a scrunchie for a touch of '90s nostalgia. They're perfect for those casual, comfy days when you just want to relax and enjoy the season.
5. Warm Headbands and Ear Warmers: Cozy Comfort
You'll want a warm headband or ear warmer when the temperature drops to keep you toasty. These accessories are not only practical but also stylish. Look for headbands made of cozy, knit materials that match your winter coat or scarf. They're perfect for keeping your ears warm on frosty mornings and can be worn with any hairstyle, from loose waves to sleek straight locks.
6. Fall-Themed Hairpins, Clips, and Combs: Seasonal Delight
Embrace the spirit of fall with hairpins, clips, and combs decked out with autumn-themed accents. Look for pieces featuring leaves, acorns, pumpkins, or fall florals. These accessories are a subtle yet enchanting way to celebrate the season. Use them to add a touch of charm to your updos, buns, or half-up hairstyles. They're perfect for fall weddings, parties, or even a cozy night by the fireplace.
7. Claw Clips: Effortless Elegance
Claw clips are all about ease and elegance. They come in various sizes and materials, and they're perfect for creating quick updos or securing your hair in a loose twist. Opt for a sleek, minimalist claw clip for a polished look, or choose a more decorative one to add a touch of flair to your style. Claw clips are versatile and can be used in a variety of hairstyles, making them a must-have for fall.
8. Clip Barrettes: Chic Accents
Clip barrettes offer a chic way to keep your hair in check while adding a touch of sophistication to your look. These accessories come in various shapes, sizes, and designs, allowing you to choose the one that best complements your outfit. Wear them to secure a side-swept fringe or add a gleaming accent to your low ponytail.
9. Chiffon Scarf: Vintage Glamour
Chiffon scarves are a nod to vintage glamour. You can use these delicate, flowing scarves in numerous ways to enhance your fall hairstyle. Tie one around your ponytail for a touch of retro elegance, use it as a headband, or incorporate it into a low bun for a timeless, feminine look. Chiffon scarves are ideal for adding a touch of sophistication to your fall outfits.
Fall offers the perfect opportunity to elevate your style with a variety of hair accessories. These accessories not only keep you warm and comfortable but also enhance your overall look. So, as you embrace the magic of fall, remember to experiment with different hair accessories to complete your autumn style.
Come see the talented stylist at  Martino Cartier Salon for a fresh fall cut and color to showcase all of your favorite autumn accessories. Call 856.582.6600, book your appointment online, or download our free mobile app available from iTunes or Google Play to schedule an appointment easily from your phone. You'll find us at 304 Hurffville Crosskeys Rd., Sewell, NJ.