Cute And Easy Hairstyles To Get You Out The Door In Record Time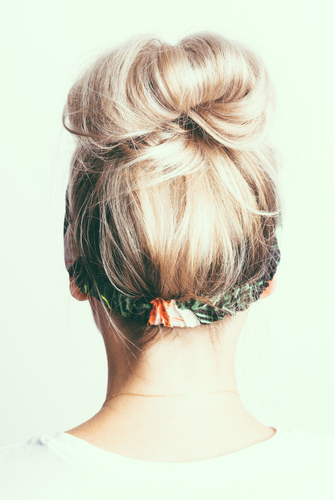 Whether it's an extremely busy morning or you slept through your alarm everyone has a day now and then when they simply don't have the time to take an hour or more to style their hair. On these days you still need to look presentable and professional when you head out to work, but how when there aren't enough hours in the morning? You can ensure you look your best and still make it to work on time by turning to some cute and easy classic hairstyles. Some look even better when styled wet, meaning you can save time drying them.
Braids
Braids come in so many styles and options, and with just a little practice you can have cute braids ready to walk out the door in just a matter of minutes. This is a great style to choose when your hair is damp and it's time to go. Braiding it damp will give you smoother braids, and if you leave them in until the next morning you'll have no heat waves to wear the next day. If you're heading out to run errands just leave your braids down. For a more polished look for the office twist them up and pin them in place for an interesting updo.
French Twist
This classic style can be worn a couple of different ways, either way, will turn out sleeker if your hair is damp when you begin. Go ahead and shower, get dressed, have breakfast, and do anything else you need to do to get ready. Just before you dash out the door twist your hair up and pin it into place. If your hair is straight tuck in the ends for a sleek smooth twist. If your hair is curly you can opt to leave your ends loose with your curls piled on top.
Buns
Buns are a classic style that is easy and versatile. Styled wet it will look sleek and professional. Styles dry and slightly messy it is soft and feminine. Whichever look you're going for it only takes a few minutes to twist your hair from roots to ends, wind it around itself, and stick in a few pins. Dress it up a little by wrapping a strand of pearls or a pretty ribbon around it or adding a few decorative pins or clips.
Easy Waves
This one takes a little prep work ahead of time, but if you often find yourself strapped for time in the morning you can incorporate the prep work into your bedtime routine so you're always ready. All you need to do at bedtime is part your hair down the center, mist it with spray gel to dampen, twist each section from root to tips, and then wind it around itself into tight buns and pin it into place. You can also braid each section for slightly different waves. In the morning take your hair down, finger comb, and head out the door.
Scrunched Waves
For the morning when you want waves but didn't prepare ahead of time slightly damp hair, a bit of mousse, your hands, and a pretty headband are all you need. Apply the mousse to your hair, and scrunch well with your hands to add some waves and texture. Add your headband and set your style with hairspray. It will air dry on your commute and you'll arrive looking expertly styled.
Pinned Back Sides
You can look perfectly polished in seconds with just a couple of pretty hair clips or barrettes. Comb your hair and part it where you prefer. Pull each side back twisting as you go and secure with your clips or barrettes. This is a good way to get unruly bangs, uncooperative layers, or bedhead under control.
The expert stylists at Martino Cartier Salon can create a hairstyle for you that works with your hair type and texture to make styling even easier. Busy mornings don't have to mean stressful mornings when it comes to your hair. Give us a call at 856.582.6600, book your appointment online, or use our free mobile app available from iTunes or Google Play to schedule your appointment right from your phone. We look forward to seeing you soon at 304 Hurffville Crosskeys Rd., Sewell, NJ.