Co-Washing – The Latest Trend In Caring For Color-Treated Hair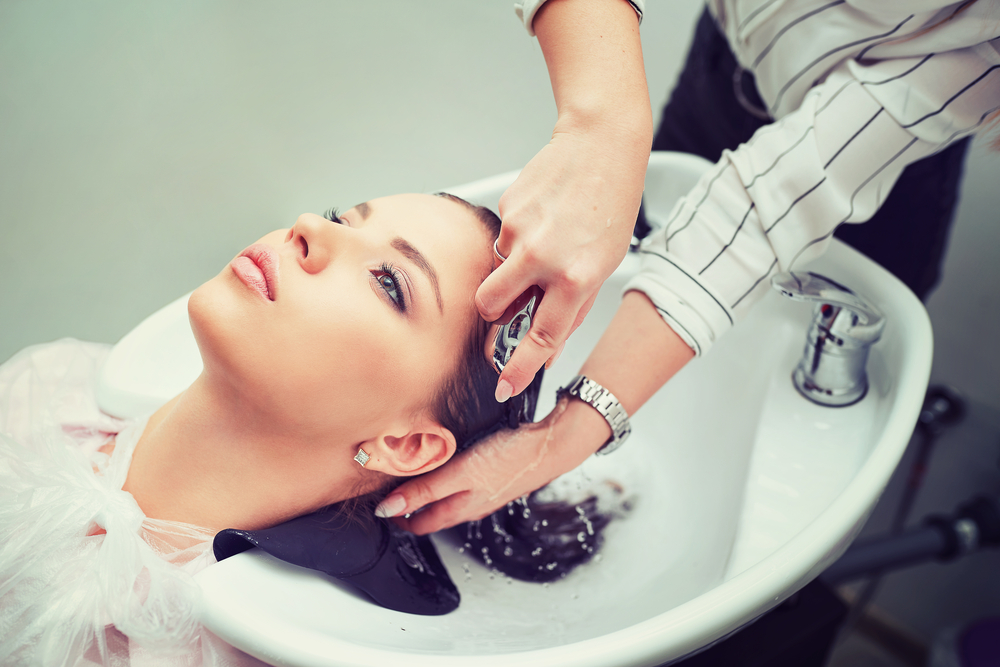 There has been a recent rise in alternative and natural methods of hair care all centered around the goal of extending the life of hair color. Recent trends include things like No-Poo shampoo, dry shampoo, and reverse washing. This increased interest in more natural and organic methods of hair care stems from more people becoming aware of the toxic and damaging nature of many ingredients in shampoos and conditioners that currently line drugstore shelves. Many of these products contain harsh chemicals that dry your hair and strip out your color very quickly. Today we are going to discuss another alternative method of hair care that focuses on keeping your strands hydrated and your color brilliant- co-washing.
Co-Washing? What's That?
Co-washing is short for conditioner washing. What this means is that when cleaning your hair a cleansing conditioner is used in place of shampoo. The idea is that scrubbing your hair with a cleansing conditioner will loosen and remove excess oil and dirt without stripping all of the natural oils from your hair while at the same time infusing your strands with moisturizing and nourishing ingredients.
How To Incorporate It Into Your Routine
If you're like most people you're used to the squeaky clean feeling that grocery store shampoos leave you with, and you may be thinking that this method could never work for your hair. And if you just jump right into co-washing it probably won't work, at least at first. Your scalp has become accustomed to your natural oils being completely stripped away on a regular basis and has adjusted oil and sebum production to compensate. So when you abruptly stop using shampoo altogether your hair may look and feel greasy for a while until your scalp adjusts. The key to success is to transition to co-washing gradually. Start by co-washing only every three to four washes to slowly wean your scalp from shampoo. As time goes on replace more and more shampoos with co-washes and eventually the full benefits of this method will be revealed in your hair.
Pros To Co-Washing
Co-washing adds moisture to your hair rather than stripping it away. If your hair has been chemically processed in any way, including being dyed, it will be more prone to drying out. By eliminating harsh detergents found in shampoos and replacing them with moisturizing cleansing conditioner you are continuously adding real moisture to your strand to help them become naturally healthier, shinier, and smoother.
Co-washing balances your scalp. As we mentioned before, detergents in shampoos strip the natural oils from your hair and cause your scalp to overcompensate by producing excess oils. Co-washing allows those natural oils to stay in place and do their job which in time brings your scalp back into its natural balance.
Co-washing encourages a more defined curl pattern. Moisture is the key to bouncy, well-defined, frizz-free curls, and moisture is exactly what co-washing provides and preserves. So if you have curly hair, this could be the answer you've been looking for to give you an amazing curl definition.
Co-washing helps your color last longer. Every time you shampoo your hair the detergents and surfactants wash away a little bit of the dye right alongside the oil and dirt. Even plain wate
r will carry away some color, but because cleansing conditioners don't strip your natural protective oils away, they also don't strip away your color as quickly.
Cons To Co-washing
Your hair can start to feel heavy. This sometimes happens in the beginning due to excess oils until your scalp adjusts to your new hair care routine, but this can also happen later due to using too much product close to your scalp or not properly rinsing it. You can combat this by using the recommended amount of cleansing conditioner, concentrating the application from the ends upwards, and rinsing thoroughly.
Co-washing requires a special cleansing conditioner. While you can co-wash with regular conditioner, it can leave residue on your hair that causes buildup over time leaving your strands dull and weighed down. So it's important to use a special conditioner that has been formulated for cleansing.
Co-washing doesn't remove product build-up. Co-washing conditioners are designed to not strip your hair, so they aren't very effective at preventing styling product buildup. This means that if you use a lot of styling products you will need to use a clarifying shampoo periodically to lift the buildup from your hair.
Which Hair Types Benefit From Co-Washing?
Any hair type can benefit from co-washing, but some hair types may benefit more than others. Chemically lightened or color-treated hair, naturally dry hair, and coarse or naturally curly hair will see the most dramatic results. The additional moisture that co-washing provides can be a real-life saver for these hair types, and the non-stripping nature of cleansing conditioners will help your color last longer.
If you're looking for a gorgeous new fall color or your color is looking a little faded and in need of a refresh, the talented colorists at Martino Cartier Salon are here to help you with a bright new color and the expert tips and tricks to keep your color vibrant for as long as possible. Give us a call at 856.582.6600, book your hair color appointment online, or use our free mobile app available from iTunes or Google Play to schedule right from your phone. We look forward to seeing you soon at 304 Hurffville Crosskeys Rd., Sewell, NJ.