Fall Makeup Trends for 2023: Embrace the Beauty of the Seaso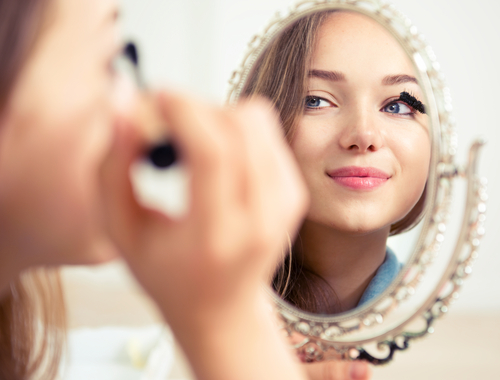 As the leaves change and the air turns crisper, it's time to revamp your makeup routine and embrace the hottest fall makeup trends of 2023. This season, makeup artists and fashion designers are bringing a fresh take to autumn beauty, blending elements of elegance, grunge, and creativity. We've pulled together the top fall makeup trends that will have you looking fabulous as you transition into the cozier months.
Latte Makeup: The Perfect Transition from Summer to Fall
One of the standout trends that emerged from the summer and seamlessly transitioned into fall is latte makeup. If you're a fan of nude and neutral tones, this trend is tailor-made for you. Latte makeup involves layering various shades of brown to create a stunning monochromatic look. Picture the warm, inviting hues of your favorite latte, and you're on the right track. It's a versatile trend that can be as subtle or as bold as you desire, making it perfect for both everyday wear and special occasions.
Statement Lips: Dark Liner Meets Pigmented Color
At Kim Shui's AW 2023 New York Fashion Week show, lips took center stage with a combination of dark liner and pigmented color. This bold approach to lipstick adds drama and definition to your lips. You can achieve this look by outlining your lips with a deep lip liner and then filling them in with a striking, pigmented color. The result is a statement lip that commands attention. For a touch of holographic magic, consider adding sparkling gloss atop your dark liner.
Grunge Meets Glam: Embrace the "Slept In" Glam Look
Who says makeup always has to be precise? Fall 2023 brings grunge-meets-glam to the forefront. The "slept in" glam look features smudgy, smoky eyes paired with brushed-up brows and contoured cheeks. This edgy yet sultry style embraces imperfection and encourages you to let your makeup be as bold and expressive as your personality. It's perfect for those nights out with friends when you want to exude effortless allure.
Glowing Skin: The Timeless Beauty Standard
The runways of fall 2023 made one thing clear: glowing skin never goes out of style. Dewy complexions continue to be a gold standard in beauty. Achieving this look involves creating a "lit-from-within" effect, with makeup artists paying special attention to the high points of the face, décolleté, brow bones, and the inner corners of the eyes. This natural makeup trend enhances your skin's natural radiance and is perfect for those who want to achieve a healthy, luminous look.
Minimal Makeup: Effortless Elegance with a Subtle Cat-Eye
Minimal makeup takes the spotlight this season with a subtle cat-eye as its focal point. Achieving this look is simple; all you need is a damp angled brush and a soft pink shadow. The result is a clean and understated elegance that pairs perfectly with fall fashion. Makeup artists complemented this look with contoured eyes and cheeks to add depth and dimension. A light flush of pink on the cheeks and lips completes this effortlessly chic style.
All About Eyes: Modern '80s Beauty with Dramatic Smoky Eyes
This fall makeup look for 2023 draws inspiration from the '80s, combining sexy elements with a touch of edge. Eyes take center stage with beautifully smoky looks that pay homage to cinema glamour. The smoldering and dramatic effect of smoky eyes is enhanced by bleached brows, which help emphasize the boldness of the look. It's a modern twist on '80s beauty, striking a balance between femininity and strength.
Colorful Mascara: Say Goodbye to Black Mascara
In a departure from traditional black mascara, colorful mascara is making a comeback. Prada's fall 2023 runway showcased faux lashes in shades of pastel pink, powder blue, and mint green, shifting the emphasis to the eyes. This trend encourages you to put away your black mascara and have fun with vibrant shades like royal blue and green. Whether you opt for spidery or shimmery lashes, colorful mascara adds a playful and creative element to your makeup routine.
The fall makeup trends of 2023 offer a diverse range of styles to suit every personality and occasion. Whether you prefer the subtlety of minimal makeup, the boldness of statement lips, or the allure of smoky eyes, this season's trends have something for everyone. As you embrace the beauty of autumn, don't be afraid to experiment, express yourself, and have fun with your makeup. After all, makeup is a powerful form of self-expression, and fall is the perfect time to showcase your unique style.
If you have an upcoming special occasion or simply want to treat yourself, a professional makeup application at Martino Cartier Salon is the perfect way to pamper yourself and enhance your natural beauty. Call 856.582.6600, book your appointment online, or download our free mobile app available from iTunes or Google Play to schedule your appointment right from your phone. You'll find us at 304 Hurffville Crosskeys Rd., Sewell, NJ.