Trending Autumn Hair Colors to Watch for in Fall 2023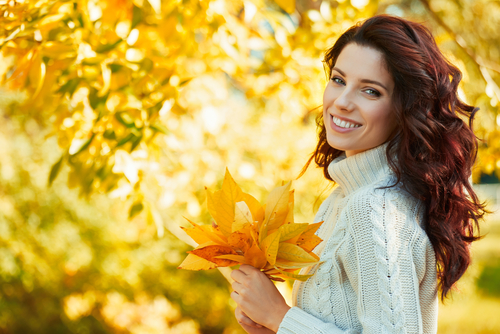 As we near the end of summer and realize that the leaves will soon be changing and the crisp autumn breeze will soon fill the air, it's time to consider a hair color that complements the rich and cozy vibes of the approaching season. At Martino Cartier Salon, we're thrilled to introduce you to the gorgeous and dynamic hair colors that are stealing the spotlight in Fall 2023. Get ready to welcome the season with a fresh and stylish update that reflects the beauty of autumn.
Color-Blocking Hair
Drawing inspiration from the world of art and fashion, color-blocking hair is making waves this fall. This trend involves adding bold and vibrant blocks of color to your hair, creating a visually striking effect. Whether you opt for contrasting shades or tones within the same color family, color blocking adds an artistic touch to your look that's bound to turn heads.
Bold Face-Framing Highlights
Face-framing highlights have always been popular, but this fall, it's all about taking them to the next level. Go beyond the subtle and opt for bold face-framing highlights that frame your face with a pop of color. Whether you choose a contrasting shade or a complementary hue, bold face-framing highlights add dimension and emphasis to your facial features.
Pumpkin Spice Hair Color
Embrace the flavors of fall with pumpkin spice hair color. This warm and inviting shade features a mix of rich copper and deep orange tones that mimic the iconic autumnal hues. It's a vibrant and playful choice that adds a touch of seasonal flair to your look. Whether you have light or dark hair, pumpkin spice can be tailored to suit your skin tone and style.
Dark Golden Ash Blonde
Blonde enthusiasts, rejoice! Dark golden ash blonde is the perfect transitional shade for fall. This cool-toned blonde features hints of gold and ash, creating a unique and sophisticated color that's both timeless and trendy. Dark golden ash blonde adds depth and warmth to your hair, making it an excellent choice for the autumn season.
Ice Blonde Hair Color
On the opposite end of the blonde spectrum, ice blonde hair color is making a statement this fall. This ultra-light and cool-toned shade embodies the crispness of the season. It's a bold and daring choice that requires commitment but delivers a stunning result that's reminiscent of frosty mornings and winter wonderlands.
Auburn Hair Color
Auburn hair color is a perennial fall favorite, and it's back in the spotlight this year. With its blend of rich red and brown tones, auburn hair exudes warmth and depth that perfectly matches the season. Whether you opt for a subtle hint of auburn or a more intense shade, this classic color choice is a timeless way to embrace autumn.
Dark Purple Bold Highlights
For those who want to make a statement, dark purple bold highlights are the way to go. Adding vibrant purple highlights to dark hair creates a striking contrast that's both edgy and chic. This bold choice allows you to experiment with color in a way that's dramatic and captivating.
White Chocolate Hair
White chocolate hair color offers a delicate and soft option for fall. This pale blonde shade with hints of creamy beige resembles the sweetness of white chocolate. It's a subtle yet stunning choice that complements the understated beauty of the season.
Coral-Toned Red
Step into fall with the vibrancy of coral-toned red hair. This unique and alluring shade infuses rich red with subtle hints of coral, creating a warm and inviting color that mirrors the changing leaves. It's a striking choice that complements a range of skin tones, making it a versatile option for those seeking a bold yet elegant look for the season.
Amethyst Balayage
Step into fall with a touch of mystical elegance with an amethyst balayage. This enchanting trend infuses shades of deep purple and lavender into your hair, creating a mesmerizing blend that will remind you of the precious gem. Amethyst balayage adds a sense of depth and richness to your look, perfectly mirroring the enchanting colors of fall.
Our expert stylists are ready to help you embrace the fall season with confidence and style. Whether you're drawn to the artistic flair of color-blocking hair, the bold impact of face-framing highlights, or the warmth of pumpkin spice hair color, we have the expertise to bring your vision to life. This fall, it's all about expressing your personality and embracing the spirit of the season through your hair color.
Book your appointment at Martino Cartier Salon now and let us help you rock the trendiest autumn hair colors of 2023! Call 856.582.6600, book your appointment online, or download our free mobile app available from iTunes or Google Play to schedule your own appointment right from your phone. You'll find us at 304 Hurffville Crosskeys Rd., Sewell, NJ.