Navigating Chemotherapy: Finding Your Confidence and Beauty With Hair Replacement
Posted by Martino Cartier | On

1 July,2023

| In Blog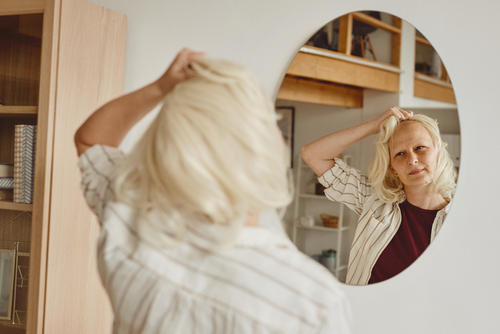 Going through chemotherapy is an incredibly challenging journey, and one of the toughest parts is dealing with hair loss. It can really take a toll on your confidence and sense of self. But don't worry, because, at Martino Cartier Salon, we're here to support you every step of the way. We offer a wonderful selection of hair replacement options that can help you regain your confidence and feel like your beautiful self again. Today, we will explore how these amazing wigs can positively impact your cancer treatment journey.
Understanding Hair Loss during Chemotherapy
When undergoing chemotherapy, the powerful drugs can sometimes lead to temporary hair loss or thinning. We understand that losing your hair can be emotionally challenging. But please remember, it's only temporary, and your hair will grow back after treatment. The hair typically starts to grow back a few weeks to a few months after the completion of chemotherapy. In the meantime, we offer a range of hair replacement options that are designed to be comfortable, natural-looking, and easy to manage. Our goal is to provide you with a solution that not only restores your outward appearance but also boosts your inner confidence during this difficult time.
Hair Replacement: Embrace Your Beauty
At Martino Cartier Salon, we take pride in offering a wide range of hair replacement options that are truly exceptional. Our skilled team of stylists understands the unique needs of cancer patients, and we'll help you find the perfect solution that suits your style and personality.
Our hair replacement options are carefully designed to look and feel incredibly natural. They provide a seamless blend with your existing hair, offering a comfortable and secure fit. You can choose from various styles, lengths, and colors to find the perfect match for your natural hair or explore a new look that expresses your unique beauty. Our goal is to ensure that you feel like yourself, beautiful and confident, throughout your cancer journey.
The Transformative Power of Hair Replacement
Let's talk about the amazing impact that hair replacement can have. It goes way beyond just restoring your physical appearance. Embracing hair replacement helps you regain a sense of normalcy and control, which can be so empowering during your cancer journey. When you put on your wig, you'll feel like your beautiful self again. It's like a little boost of confidence that helps you face each day with strength and grace. You don't have to worry about hair loss anymore. Instead, you can focus on what truly matters – your health and well-being.
About Wigs & Wishes
The Wigs & Wishes program is a remarkable initiative dedicated to making a difference in the lives of individuals facing hair loss due to medical conditions, including cancer. Through this program, Martino Cartier Salon provides complimentary wigs to those in need, offering them the opportunity to regain their confidence and feel beautiful once again. With a strong commitment to supporting women in their journey through cancer, the Wigs & Wishes program has had a profound impact in the community, providing hope, joy, and a renewed sense of self to countless individuals.
We understand that undergoing chemotherapy is a challenging and often overwhelming experience, and we want to make this journey a little easier for you. Our compassionate team is dedicated to providing support and guidance throughout the process. We believe that looking and feeling your best can have a positive impact on your overall well-being. That's why we offer hair replacement options specifically tailored for cancer patients. We want to contribute to your health and happiness by helping you maintain a sense of normalcy and confidence. Let us be your ally in this fight against cancer, offering you not just exceptional hair replacement solutions but also a warm and caring environment where you can find support and understanding. Together, we'll help you embrace your inner strength and radiate beauty throughout your cancer treatment.
At Martino Cartier Salon, we understand the emotional impact of hair loss during chemotherapy, and we're here to support you wholeheartedly. Our hair replacement options are not just about physical restoration; they're about helping you rediscover your beautiful self and embracing your uniqueness. Let us be a part of your journey, providing you with high-quality options that not only look natural but also feel incredibly comfortable. Reach out to us today at 856.582.6600 or book your appointment online. Download our free mobile app available from iTunes or Google Play to schedule your own appointment right from your phone. We would love for you to visit our salon located at 304 Hurffville Crosskeys Rd., Sewell, NJ. Together, we'll navigate chemotherapy with a smile, a sprinkle of magic, and the beauty that shines from within you.
About Author
Martino Cartier