Want Healthy Hair? Start With Your Scalp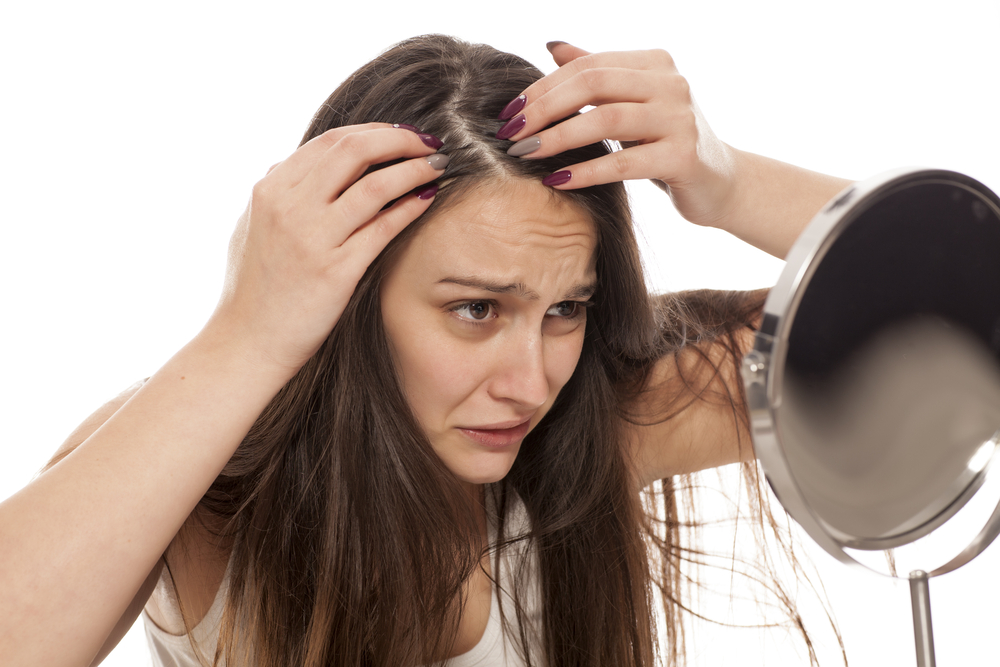 When it comes to improving the health of your hair there is one area that is all too often overlooked- your scalp. Scalp care is going to be big this year because to get healthy hair you have to start with a healthy scalp. We put a lot of time and money into our skincare routines and completely forget about our scalp, but it needs some TLC too. Today we're going to give you some tips to keep your scalp healthy.
Scalp Care Tip #1- Hydrate It
The cornerstone for healthy skin anywhere on your body is hydration, and this includes your scalp. If you don't water a plant it stops growing, right? The same thing happens to your hair when your scalp gets dehydrated, not to mention the flakes and itchiness goes with a dried-out scalp. Hydrate from the inside by drinking at least 8 glasses of water a day and hydrate from the outside with a weekly moisturizing scalp treatment.
Scalp Care Tip #2- Daily Massage
Studies have shown that a daily scalp massage improves the health of your scalp and hair by increasing circulation to bring much-needed nutrients and oxygen to your scalp and hair follicles. This boosts hair growth and shine. It's easy to do. Just use your fingertips and apply light to moderate pressure working in circular motions across your scalp. Try to do this for about 5 minutes. In the morning right after you wake up and while you are shampooing your hair are great times to get in a quick scalp massage
Scalp Care Tip #3- Use SPF
Unless you wear a hat every time you go outdoors your scalp is constantly exposed to damaging UV rays. The delicate skin of your scalp is very susceptible to damage from the sun. To protect your scalp from burning and damage, cover it when you can and apply a scalp SPF when you're on vacation at the beach or anytime your scalp will be directly exposed to the sun.
Scalp Care Tip #4- Oil It
Hair oil is currently a very popular product in the haircare industry. There's a good reason for that. Studies have shown that hair oil is able to penetrate your scalp to the deepest layers to moisturize, increase circulation to your hair follicles, and encourage hair growth when used regularly. Choose a hair and scalp oil that is appropriate for your hair type and massage it into your scalp for 3-5 minutes before washing as usual.
Scalp Care Tip #5- Give Your Scalp A Monthly Spa Day
Have you ever heard of a haircial? It's like a facial, but for your hair and scalp. It's designed to deep cleanse and nourish your scalp. You can easily give your scalp an at-home spa day every month. Start with a detoxifying prewash treatment. You can make your own by mixing 2 tablespoons of bentonite clay, 2 tablespoons of activated charcoal powder, 2 tablespoons of raw apple cider vinegar, and 2 tablespoons of water. Combine and cover your scalp with the mask. Tie up your hair and cover it with a shower cap and leave it on for 20-30 minutes before washing out. Next oil your scalp, massaging well, and cover it with a shower cap and warm towel for another 20-30 minutes. Now shampoo with a clarifying shampoo. Repeat if necessary. Finish with a nourishing hair mask and a high-quality hair oil formulated for your hair type.
Scalp Care Tip #6- Stop Over Shampooing
Many people mistakenly believe that to keep your hair clean and healthy you must shampoo it every day. Some even shampoo twice per day. This is far from true. Shampooing too often disrupts the natural balance of your hair and scalp and strips away all of the nourishing protective oils produced by your scalp. This can lead to an overly dry scalp and greasy or damaged hair. Most people only need to shampoo their hair once or twice per week. If you need it you can use a dry shampoo between washes to freshen up, but use it sparingly to avoid overdrying.
If you take good care of your scalp it will reward you with a healthy head of hair, and the knowledgeable stylists at Martino Cartier Salon can help. It is our passion to help you have the most gorgeous and healthy hair possible. Give us a call at 856.582.6600, book an appointment online, or use our free mobile app available from iTunes or Google Play to schedule right from your phone. We look forward to seeing you soon at 304 Hurffville Crosskeys Rd., Sewell, NJ.